As we continue to work through 2018 lets see what the past two months have had to offer.
I, Tonya
While Frances McDormand was great in Three Billboards, there's no doubt in my mind that Margot Robbie was robbed of a best actress Oscar win for her beautiful performance in a film that is definitely going into my top 10. Sports movies are very much hit or miss depending on the person but while this film didn't receive a best picture nomination, it did receive critical acclaim.  Inspiring, moving, funny and gripping are all terms that apply to I, Tonya in what is a brilliantly acted biopic that moves quickly and embraces the controversy of its subject matter.
10/10
Red Sparrow
A month after seeing this film I'm still not sure whether i enjoyed this film or not. However, I think that's what the film intended, it always tries to make you feel uncomfortable but it never lets that take over from the story. While a wonderfully detailed spy thriller, Red Sparrow does become over stuffed by a run time that is far too long but it does redeem itself with it's great ending and a notable performance from Jennifer Lawrence.
7.5/10
Save Me
Lennie James is a God and I think we should all just accept that. I don't think I've ever witnessed something as intense as Save Me, Lennie James' performance is never anything less than gripping. Save Me dives into the world of child sex workers and shows the pain it causes on the families involved. While only 6 episodes long, the show delivers a complete 1st part of a devastating story that will turn you into an emotional wreck.
10/10
Pacific Rim: Uprising
Noooooooooooooooooooooooooooooooooooooooooooooooooooooooooooooooooooooooooooooooooooooooooooooooooooooooooooooooooooooooooooooooooooooooooooooooooooooooooooooooooooooooooooooooooooo.
4/10
Game Night
US comedies are struggling and honestly, I can understand why. However, a comedy that I believe has achieved the task of not being utter shit is Game Night. Countless times have I watched a trailer that uses all of a films "funny moments" and I feared Game Night had done the same only to be more than pleasantly surprised. Game Night delivers good laughs and reveals that Rachael McAdams is really well suited to comedies.
8/10
Ready Player One
Just look at that Iron Giant, dammmmmmmn. Now, in all seriousness when I first saw the trailer for Ready Player One, I was unsure about it. I thought the huge amounts of CGI would be an issue and it some cases I was right but overall, Ready Player One is a classic example of Spielberg magic. Always engaging and dazzling to look at, the film overcomes it's character problems to deliver a fun, nostalgia filled flick.
8.7/10
Tomb Raider
While Alicia Vikander is very good, the film itself is only fine, not bad, not good, fine. The action is done very well, clearly setting the spatial awareness of a scene is something I'm always a fan of. As for the rest of the film, it's very much what you'd expect, at times cheesy and dull but has redeeming qualities at the right points.
6.8/10
Lady Bird

Just a lovely and refreshing take on the coming of age story along with being a meaningful tribute to the mother-daughter relationship. Greta Gerwig shows her talent with an undeniably sweet story that also has a lot of laughs to it. The performances are solid all round and while the last 10 minutes do seem to be tapped on somewhat, the film will constantly aim for your heart and mostly succeed.
8.8/10
Isle of Dogs
Adopting Wes Anderson's weird and wacky style, Isle of Dogs is a beautifully made stop motion animation centered around man's best friend.  While the story is nothing groundbreaking, the film is a sweet tale that never stops to amaze you visually. Despite being funny, the film will still tug at your heart strings throughout as a young boy looks for his lost dog. The casting is brilliant and probably my favourite thing about the film, Edward Norton is exactly what I would expect a dog to sound like.
8.5/10
A Quiet Place

My standard for horror films have always been set very low but the premise for A Quiet Place was too intriguing to resist. The result is not only a truly brilliant horror film, but a brilliant film in general. A great gimmick, performances and atmosphere all come together to create an absorbing experience. My beloved Jim Halpert (real name John Krasinski) is in the directors chair and establishes himself as an emerging talent in this genre with Emily Blunt proving yet again how amazing she is. Calling it a horror film almost feels like i'm demeaning it, the film goes above and beyond that label and actually gets you to really care for these characters and worried for them all the way through.
10/10
Blockers
Another American comedy that succeeds at not being unbearable. It's not the huge feminist statement critics are making it out to be, but more a fun teen comedy that times itself well and never pushes it's R rating too much. John Cena steals the show, delivering the films biggest laughs but something that I didn't expect was how much heart this film has, helping it to go above that raunchy teen comedy label.
7.2/10
Ghost Stories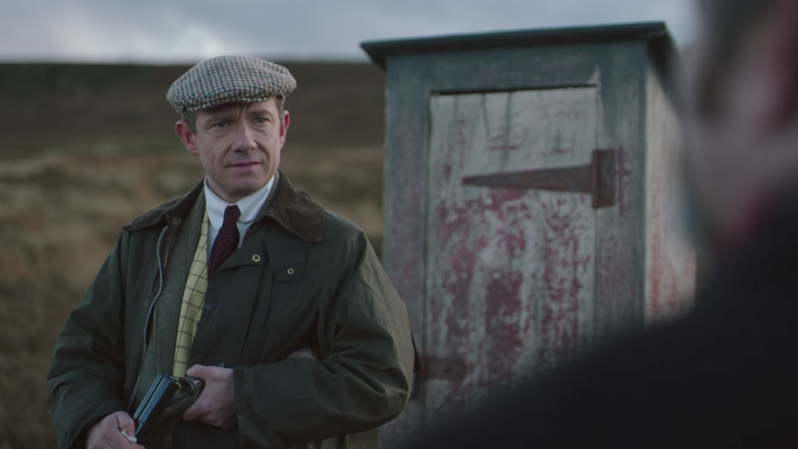 What I can only describe as a very British horror that does very well in creating an atmosphere even if it does refer to jump scares now and again. Ghost Stories is a well made film that will most likely please horror fans who are sick of the regular low quality.
8.3/10
Love, Simon

This film is just too sweet, and I don't mean the kind that you can't stand after a while, I mean the kind that is simply lovely. This film doesn't take itself for granted and succeeds in going above what many would have assumed were its limits by truly bringing the feels in a story about love, friendship and acceptance.
9.3/10