A year showing so much promise is already living up to its potential with Oscar calibre films as well as big blockbusters, some years in the making.
The Shape of Water
A film that can only be described as weird yet wonderful. Del Toro's The Shape of Water follows Sally Hawkins "incomplete" Eliza as she falls in love with a man-like amphibian creature.  As you can tell, sounds weird, but the style of the film (the beautiful music included) does as much as it can to make this love story feel at home and succeeds for the most part. Michael Shannon gives one of his best performances to date, never failing to be intimating and Sally Hawkins truly earns her Oscar nomination without ever uttering a word. The result is a quirky but ultimately sweet love story that acts as a beacon for the those who believe in the statement of love holds no bounds (species and all, evidently).
8/10
Coco
Pixar just can't seem to disappoint and Coco very much fits that bill. Sweet, charming, endearing and a beautiful colour palette to go along with it. I don't think anyone is fooled about whether or not Coco will win best animated picture as this "kids" movie proves to be a great tribute to family, tradition and those who dream of greatness.
8.5/10
Three Billboards Outside Ebbing, Missouri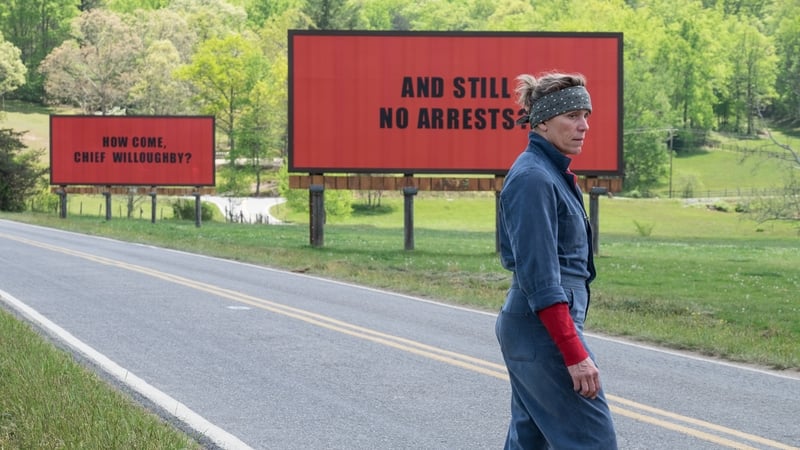 When I saw the first trailer for Three Billboards, I thought the heavy use of bad language might put a nasty taste in my mouth while watching the film (I'm looking at you Bright). However Three Billboards does a Wolf of Wall Street in this respect, always using the language with a purpose while having emotional or comedic reasoning behind it. Sam Rockwell gives one of my favorite performances in recent years and Francis McDormand shines as the lead, revealing more layers to her character rather than just being a woman with a dirty mouth. Overall, the film is a joy to watch and brilliantly captures how we hurt one another but also how we are able to come together against the real enemies among us.
9/10
The Post

Spotlight 2 is what I thought when I saw the trailer for The Post and in some respects that's true, but in most, it's not. Oscar bait was screamed when the names Hanks, Streep and Spielberg popped up next to this project but The Post very much holds it's own, especially the second half, as a great film. Captivating performances from it's leads, and a pretty damn good one from Bob Odenkirk, help lead this interesting period piece.
8/10
Downsizing

What started off as a good setup for a comedy turned into a preachy environmental piece. The great Matt Damon helps keep the ship afloat but after the first 40 minutes, the fact that these guys are small is not even a factor. It's not that the film isn't well made, it has some pleasing moments but overall I just keeping finding myself asking, why bother?
5.5/10
Star Wars: The Last Jedi

I know it was 2017 when this was released but I'm still going to do it. On first viewing, I really wasn't sure how I felt, but on second viewing, I was positive that I had seen a great movie. This Star Wars offered me something different, something that I never would have expected and for that I have to tip my hat off to Rian Johnson. This Star Wars in particular had some many great moments (Canto Bight excluded) that will stick with me for years and years, encouraging me to keep coming back to this really well made and beautiful looking movie.
9.2/10
All the Money in the World
When I see people call Michelle Williams a nobody actress, my mouth genuinely drops sometimes. Manchester by the Sea, Blue Valentine, My Week with Marilyn and Brokeback Mountain make up her 4 Oscar nominations and while her role here hasn't been as praised, she still kills it, as does (the nominated) Christopher Plummer. While the pacing can be a problem, All the Money in the World still proves to be a tension filled back and forth argument of a movie.
7.5/10
Black Panther
This film is in no way a pit stop on the road to Infinity War, Black Panther excludes the outer Marvel universe in favour of a story fully set on Wakanda and it's issues. I feel the best superhero movies are ones which feature a villain that makes the hero question their own methods and way of life. Michael B. Jordan brings a layered villain that serves a very valid argument in contention with that of the hero's. The costumes, sets, music, and cinematography are all on point to bring Wakanda to life on the big screen. Letitia Wright steals the show as Shuri, while Andy Serkis and Chadwick Boseman play to their strengths and deliver distinct performances respectively. I originally thought Boseman may not be able to hold his own as the lead of a solo film and in some cases that was true but overall he was strong and he'll only get better with every film. There were a few relationships in the film that were forced, barley getting any screen time with the only purpose of wrapping up the plot but overall Black Panther delivered, serving great action, visuals and the introduction to a new age of the Marvel Universe.
9/10