We're just over half way through 2017 and there has been a lot of films to hit the silver screen. There has been box office hits as well as down right duds, critically loved films along with those that are despised. Over the past six months we have seen some truly great movies and i'm going to countdown the top 10.
10. Split
Remember M. Night Shyamalan? The man made some great films such as Unbreakable early on his career and was destined for big things…. but then he made The Happening, and then The Last Airbender, and then After Earth. Three truly terrible films which turned M. Night Shyamalan into a joke, many would constantly mock the director and his wasted potential. Hope looked to be lost until Split was released. A film about a man with 23 different personalities is an engaging premise straight away and James McAvoy's performance helps the film deliver on so many aspects. The intimate, close quarter style of the movie worked to McAvoy's strength, making the character as creepy and weird as intended. Seeing all his personalities and the way they interact with other characters is a sight to see.
9. Free Fire
Brie Larson, Brie Larson, Brie Larson! There is nothing this woman can't do! She shines in this movie from start to finish, demonstrating a more comedic side than usual but still brilliant all the same. In a film that really shouldn't work, it does so well. Solely based on an arms deal gone wrong and completely set in one warehouse, Free Fire keeps it short and sweet with a good mix of comedy and action.
8. La La Land
 Joint with Titanic for most Oscar nominations in history, La La Land had a lot of hype behind it going into the academy awards. Despite the fiasco with the best picture award, I still feel La La Land should of taken the award. It's been a long time since we've had a new, original musical and La La Land combines classic styles with modern themes to craft a film that while campy, allows you to easily get lost in the music. Stand out performances form Ryan Gosling and (Oscar winning) Emma Stone gives this film the leads it needs.
7. Get Out
Jordan Peele delivers a fresh and much needed entry into the horror genre with his first ever film. The way everyone treats the main character, Chris (Daniel Kaluuya), gives you such an uncomfortable feeling that you're as eager to get away from them as he is. The nature of his girlfriends family and the "business" they run is every bit as intriguing as it is unnerving.
6. Wonder Woman
  A superhero movie that creates emotion like no other by using one of the most hopeful characters in history. I couldn't praise Gal Gadot enough in this film, giving one of the best performances I have ever seen.  This, along with a well crafted story and nicely executed action, meshes together to make a beautiful heartfelt entry into the DCEU.
5. John Wick: Chapter 2
 The highly anticipated sequel to the 2014 sleeper hit not only met expectations but went up and beyond. With a larger budget, the action was bigger and never once fell flat. Keanu Reeves does his stunt work to perfection, giving audiences well choreographed fight scenes rather than the use of shaky cam. Creativity goes through the roof in this film, showing all sorts of new ways John Wick can take out his enemies. The action is non-stop as John barley makes it out alive while setting up the third and final installment in a great way.
4. Spider-Man: Homecoming
While being a second reboot, Homecoming still manages to feel fresh with the perfect casting of Tom Holland and a great supporting cast. Deciding to focus on high school life gives this film a certain charm that wasn't on show in previous entries. Being in the MCU also gives Homecoming the popular campiness that everyone loves about Marvel movies.
3. Logan
 Fox finally delivered The Wolverine movie fans have been waiting for. What made it that much more epic was the fact that this was Hugh Jackman's last outing as the character. Giving the film an R rating was the best thing Fox could of done, Wolverine's full potential was on show as the strong and bloody violence fans had been begging for was finally given to them. Like Wonder Woman, this film had a lot of heart to it and Jackman's final scene will be one i'll always remember.
2. Baby Driver

ORIGINAL! Hollywood needs films like this. Crisp and stylish in every sense of the words with a perfect cast. Edgar Wright nailed everything about this film, directing, writing, editing and most of all the music. It blends in perfectly with the action and reminds me of another great film that uses its music as inspiration…
1. Guardians Of The Galaxy Vol.2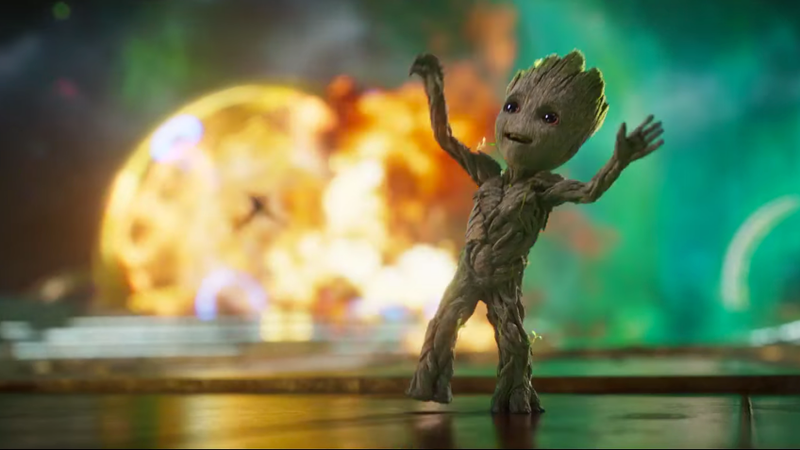 As i mentioned in my review for Guardians Vol.2, this is my favorite film of all time so it would only make sense for it to take the #1 spot. I was looking forward to this film for three long years and it delivered on every level. James Gunn worked his magic yet again and it comes as close as possible to perfect entertainment. This is another film that hit all marks, from casting to humor to action to story.